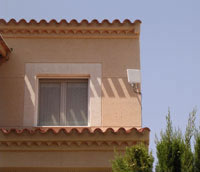 We can now supply you with internet, phone, mobile and UKTV anywhere in Spain, Mallorca, Menorca, Ibiza and the Canary Islands so you do not need to check the coverage below - just contact us.
Iberbanda uses a wireless communicaton technology which permits the transmission of data and voice without the necessity of a conventional telephone line.
To receive Iberbanda Wireless Internet and Phone Services, a small dish is erected on the outside of your property. The installation is similar to Digital Satellite TV in the UK, although with much smaller equipment. To be able to install an Iberbanda system there needs to be a direct line of sight to one of the Iberbanda antennas from the receiving dish
Please look at the AVI Iberbanda coverage maps. The areas which are marked in green are the approximate areas with coverage where you will be able to receive AVI Wireless Broadand and Phone Services.
Please make sure you have Google Earth and download these google earth points to find out what coverage is available with Iberbanda. These points were updated in June 2014 and are pretty accurate. The areas marked as Green have Iberbanda coverage ...
Andalucia (Almeria, Cadiz, Cordoba, Granada, Huelva, Jaen, Malaga, Sevilla) - Castilla y León - Cataluña (Barcelona, Gerona, Lerida, Tarragona) - Coruña - Fuerteventura - Guadalajara - Alicante and Murcia - Navarra -Zaragoza - Asturias - La Rioja - Pontevedra - Ourense - Lugo
From any of these areas if you can see one of the Iberbanda antennas from your property you should be able to get the Iberbanda service. Please contact us and we will put in an order and send out a technician to check coverage and install the service if there is a good enough signal. If the signal is not good enough there is no charge for the visit of the technician. Below are the old coverage maps which are now a few years old and have been superceded by the Google Earth points above.